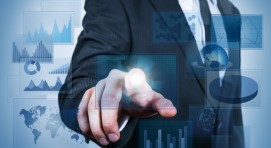 For
Jennings Group
, being cutting edge isn't just a matter of pride.  It's good business.  We continue to keep current on evolving technologies in order to streamline our processes.  This differentiates our firm with others in the surrounding area.
Some of the tools we use to create the digital office include:
"Paperless" Environment – All documents from our clients are scanned and replaced with electronic binders that allow staff to access electronic work papers conveniently from any location.  Information can easily be tracked, managed and incorporated into the work-flow.  This increases efficiency and productivity across the firm.  It also reduces the disaster recovery risks involved with a manual ("paper") file while meeting strict regulatory compliance rules.
Cloud Computing – This refers to Internet-based technology that allows us to have our records hosted by an off-site provider.  All communications between our computers and the hosted servers (the initial server AND a backup server that is 53 miles away) are secured with 128-bit Secure Sockets Layer (SSL) encryption.  We use GeoTrust SSL Certificate, the most secure option for SSL with the highest authentication and the strongest encryption.
Secure Client Portal – Client portals provide a secure, convenient, and easy way for our clients and Jennings Group to exchange and share files.  Exchanging files via email is unsecured and often frustrating. Email servers often reject large file attachments leaving clients with no choice but to mail us a CD with their files. The Secure Client Portal allows our clients to simply upload any file on their computer to a secure online safe-deposit box. And just like a bank safe-deposit box, only our clients and our staff hold the key.  We are also hoping to have the option to provide a state-of-the-art online payroll processing through the Client Portal. Our clients would be able to enter their hours and earnings and print detailed reports directly from the Secure Portal on our website. See the following article from AccountingToday concerning the safety of our client portals.
Check-In Kiosk – Once you enter the Jennings Group office, our clients can sign in on our kiosk which allows our clients to have reduced lobby wait time and without the long lines.
Online Scheduling – We provide an online scheduling option through our website as well as through our Facebook page.  This enables our clients to schedule at THEIR convenience, not just when the office is open.
Multiple Monitors – Each of our staff utilizes two (or three) monitors in order to increase productivity within the office.  This allows us to have the scanned documents on one monitor while the tax program is on another, or even have last year's tax return on one so that there can be quick comparisons.
QR (Quick Response) code – This is a specific matrix barcode that is
designed to be read by smartphones.  You will find this code on our business cards to quickly and easily connect you to our website.
We are SOCIAL – Jennings Group is associated with all the major social media networks (Facebook, LinkedIn, Twitter, etc.).  Check us out!